Children under 4 years of age who do not occupy a seat - They travel for free
Children under the age of 4 who do not wish to occupy a place, therefore they will not be entitled to a seat, they can travel without a ticket accompanied by an adult.
Children under the age of 4 who occupy a seat
Children under the age of 4 will also have the possibility of occupying a seat, therefore having a seat with the ticket means that it will not be for free but it will get a discount for children.
Children under the age of 12
Children of 12 or 13 years will get discounts on their tickets and cheaper train tickets, discounts are usually 40% of the basic fare of the ticket.
Children 12 or 13 years old
Children under the age of 12 will get discounts on their tickets and cheaper train tickets, discounts are usually 40% of the basic fare of the ticket.
Renfe
RENFE Operadora, is a public business entity that belongs to the Ministry of Development and is based on the principles of safety, quality, efficiency, innovation and profitability.
Both RENFE and its companies are responsible for four main activities:
Renfe Viajeros: Transport of travelers at regional, national and international level.
Renfe Merchandise: Transport of goods and logistics services.
Renfe Manufacture and Maintenance: Maintenance and industrial work.
Renfe Rental of Railway Material: Management of rolling stock.
The origins of the Spanish railway network
The train, that very charming means of transport, is intimately linked to the history of our country, perhaps this is why we feel so nostalgic when we travel by train.
The first train lines began to be built in the 19th century and we are still creating new train lines, especially High Speed ​​trains lines, and they have become a fundamental element in our society and our economy.
With the advent of industrialization and capitalism, plus examples of economic and social momentum coming from England, Germany, France and other European countries, Spanish leaders saw in the railway lines a magnificent service to make our country grow and that was the start of the great expansion of the train line.
The first Spanish train was built in Cuba, back in 1837 when Cuba was a Spanish province, but it was not until 1848 when the first Spanish railway line was built, linking Barcelona with Mataró, this line is still active. Afterwards, a rapid growth in the creation of other lines of Iberian width started, until the Civil War began in our country in 1936 and the railway network was badly damaged.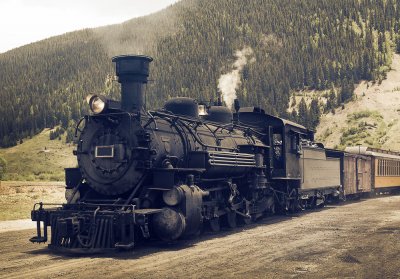 The narrow-gauge railways also had their booming, a strong expansion at the end of the 19th century began, especially in the northern part of Spain. This metric was chosen by the mountainous terrain of this zone, the majority of these trains were miners but they also transported passengers. The most important narrow-gauge line was that which bounded Leon and Bilbao as it was the longest and it is still the longest narrow-gauge line in Europe.
The twentieth century would bring us trams and suburban railways. Also, the first electrified train lines. In 1911, the first electrified line was inaugurated in Spain. In 1941, all the trains of Iberian width began to be nationalized and they ended up integrated in the National Network of the Spanish Railroads, now known by all as RENFE.
Origins and history of RENFE
The Spanish National Railway Network was founded in 1941 and operated on Iberian-gauge trains, transporting passengers and freight until 2005. As per European regulations on rail transport, RENFE was divided into ADIF (infrastructure) and Renfe Operadora (operations).
In 1941, there was the imposition to joining all the companies that operated in Iberian width in a single company, RENFE. Among the most important companies that happened to be part of RENFE were the Company of the Iron Ways of the North of Spain (Caminos de Hierro del Norte de España), the Company of the Railroad From Madrid to Zaragoza and Alicante and the National Railway Company of the West.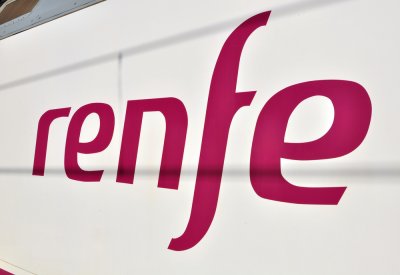 After this, RENFE was the only company that managed the train lines and they did so for 64 years.
When it was created, it counted on 12,401 km track and it had to face the damages suffered during the Civil War. In 1949, a plan was approved to reconstruct and to reform the railway network, the locomotives and the wagons.
In 1950, the first commercial services of the Talgo trains would begin, that covered the route between Madrid and Hendaya.
During the 60's, the Spanish economy improved progressively and this was also noticed in the world of trains, especially in the line between Madrid and Barcelona. At that time, the construction of new lines was stopped and all the efforts focused on improving the existing rail network. At the beginning of the 1980s, train services began to be installed in such important cities such as Barcelona, ​​Málaga, Madrid and Valencia. During this decade, train stations in Madrid, Seville and Barcelona were modernized. In the 90's Santa Justa Station was built in Seville. In 1992, the railway structure and the train stations in Barcelona were reorganized, the station of Barcelona Término was renovated, which was also known as Estación de Francia and the station of Barcelona Sants as well. 1992, which was the year when the Olympic Games took place in Barcelona.
The arrival of High Speed and AVE trains
It was on April 21st in 1992 when the first high-speed ​​line was inaugurated, which joins Madrid and Seville. This event took place coinciding with Expo'92. In that year, 1.31 million passengers were transported by this AVE train and it has transported 71.1 passengers in its first 25 years.
AVE as a trademark began to be used to name precisely this line of High Speed ​​between Madrid and Seville.
This new infrastructure of High Speed ​​is denominated AVE, which stands for Alta Velocidad Española (Spanish High Speed). The AVE trains circulate by European international routes and can reach the 300 km/h.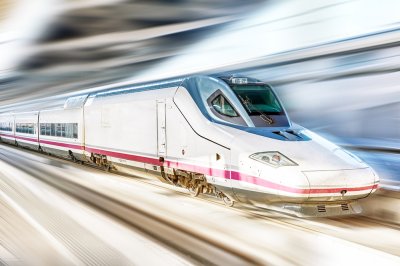 After the line AVE Madrid Sevilla, the line that unites Madrid and Barcelona was inaugurated, ​​after this, the High Speed line ​​between Madrid, Segovia and Valladolid and the one that unites Madrid and Barcelona with Saragossa. The arrival of the AVE to the Valencian Community, to Castilla la Mancha and Andalusia is also remarkable.
In 1997, the Euromed trains, which are also high-speed trains carrying passengers between Barcelona, ​​Valencia and Alicante in Iberian-gauge lines, were put into circulation. That same year started the works to unite France with the rest of Europe through the line of High Speed ​​Madrid-Zaragoza-Barcelona-French Border and in the year 2003 it connected Madrid with Lleida and Saragossa and Madrid with Huesca.
As we commented, it was in 2005 when RENFE was divided into Renfe Operator and Adif, the first one being in charge of the operation of the trains and with the trade mark AVE and Adif was left with the infrastructure, that is, with the lines of high speed.
The construction of high speed lines has been incessant since then, it is noteworthy that in 2007 the AVE line connecting Madrid, Segovia and Valladolid arrived, which linked Cordoba and Malaga and the one that linked Lérida and Tarragona. In 2008, AVE trains began to arrive at the Barcelona Sants station. At the same time, stations for new AVE trains were being built, such as that of Joaquin Sorolla in Valencia and that of Fernando Zobel in Cuenca.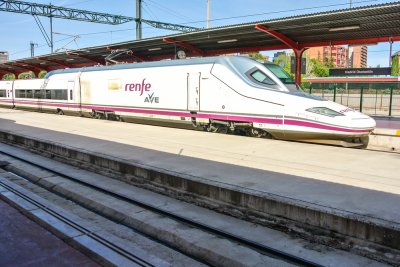 In 2009, RENFE introduced the Alvia trains and the increase in the number of users in the trains was noticed.
In 2010, AVE trains began operating between Madrid, Cuenca and Valencia with a journey time of 1 hours and 35 minutes.
In 2011, AVE trains between Madrid and Barcelona increased their speed to 310 km / h.
And the High Speed ​​lines, the number of trains in service, the number of passengers and the occasional promotions to promote the use of the AVE trains have not stopped growing. For all this, our High Speed ​​network counts on more than 3,000 kilometres of railway infrastructure and it is one of the most extensive networks in the world, with trains being the main means of public transport for national long distance trains.
The growth in the demand for high-speed rail travel has been made possible by public investment and technological development. Nowadays, for example, we have AVE trains that gradually reach all the capitals of the Spanish state.
Types of train
Renfe AVE: the acronym of AVE stands for Alta Velocidad Española (Spanish High Speed) ​​and refers to high speed trains that cover long distances. They exist in our country since April of 1992 with the route Madrid - Seville.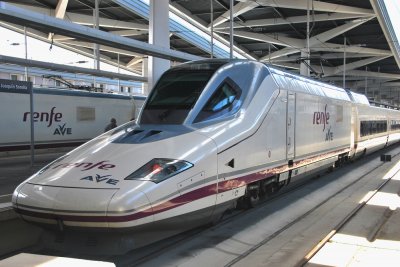 After joining Sevilla and Madrid by AVE trains, the next step was to do it between Madrid - Zaragoza - Barcelona - French border and it was in 2003 when Madrid, Zaragoza and Lerida and Madrid with Huesca were connected by AVE. Almost three years after RENFE was divided into Renfe Operator and Adif, ​​Córdoba and Málaga were linked with Madrid and Madrid with Valladolid through High Speed. In 2008, it was possible to reduce the travel time between Madrid and Barcelona to 2 hours and a half. In 2010, the LAV Madrid - Levante connecting Madrid, Cuenca and Valencia was used and it did in 1 hour and 36 minutes. In 2011, AVE trains increased their speed to 310 km/h to travel between Madrid and Barcelona. Since then, the routes in High Speed ​​have not stopped growing all over our country.
AVE trains are high-class trains that run internationally on large routes. Renfe Operadora is without a doubt a flagship, it offered the first train to reach up to 310 km/h and along with the Euromed trains, it is the only one in which catering is offered in the seat and as they cover great distances, they include cafeteria.
All AVE trains are homologated to reach at least 300 km/h. Among other possible classes, it is normally possible to travel in AVE in Economy class and Business class.
It is one of the greener trains as it spends much less energy than other types of trains.
Renfe Alvia: It is another of the long distance rail services offered by Renfe Operadora, combining high speed sections with others at less speed in conventional gauge tracks. The routes on Alvia trains have gradually replaced those of Altaria. Alvia trains have as a fundamental objective: towns that do not receive AVE trains can also benefit from reduced travel times.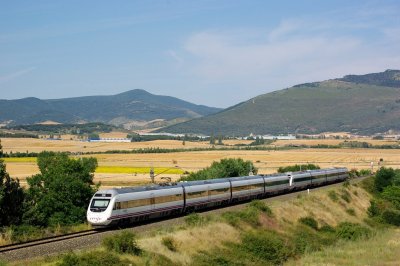 Alvia trains began to circulate in 2006 in the section of Madrid-Zaragoza - Barcelona - French Border and replaced most of the Altaria trains between Madrid and Barcelona.
In 2008, the Alvia Madrid Barcelona stopped circulating being replaced by the fastest AVE trains.
Renfe AV City: These trains are considered the low cost line of AVE trains, they are also high-speed trains, although somewhat smaller than those that reach AVE trains, they carry out daytime services and they only count on Economy class. These trains complement the offer of AVE trains at lower prices to increase their use by passengers. In this type of train, because of the low price of tickets, no complementary services are offered, but they do have a cafeteria, seats for people with reduced mobility and toilets.
Renfe Euromed: Euromed trains are also day trains, circulating from June 16, 1997 connecting towns on the Mediterranean coast through the Mediterranean Corridor. They offer cafeteria, restaurant, music, video and newspapers. You can travel in Euromed trains in Economy and Business class.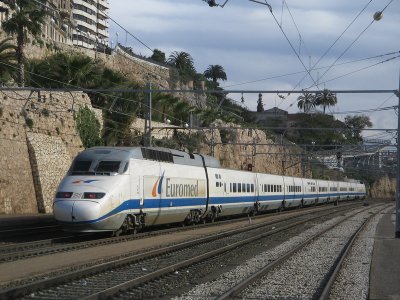 Renfe Talgo: Its name comes from the acronym "Tren Articulado Ligero Goicoechea Oriol" (Light Articulated Train Goicoechea Oriol), after its designer Alejandro Goicoechea and by the person who financed the manufacture of the first trains, José Luis Oriol. They built together in the 40's the prototypes of the Talgo 0 trains and Talgo I that had no commercial use and after they built the Talgo II, the first of these trains that operated in regular passenger services.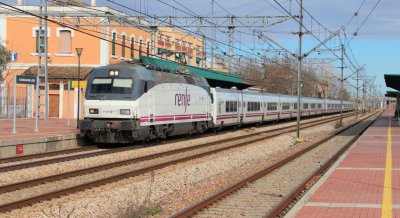 All Talgo trains have seats in the Economy and Business classes and they have cafeteria, video and music.
Renfe Trenhotel: This is a high end night rail service, a nice room between rails with all the comforts that an hotel can offer you and with the advantages of travelling by train. It is specially designed to reach its destination at night and you can take advantage of it to sleep and wake up at the destination train station in the early hours of the morning.
There are also seats in Economy and Business class, and all passengers have cafeteria services at their disposal.
If you travel in a cabin rather than in a sitting place, you can get the same cabin as your couple or family and you are received by the crew that besides welcoming you and giving you the keys, ask you at what time you wish to be awaken.
There are large class cabins, where you find both a means of travel and a complete accommodation, being able to choose between single and double class cabin. It has a bathroom with shower included, a toilet bag and even lingerie items. Passengers who have the ticket for the Grand Class have access to the club lounge of the station of origin and the newspaper. In this class you will get the biggest comfort and the biggest beds, there are ergonomic armchairs, folding tables, intercoms to communicate with staff, etc. For people with reduced mobility there are adapted cabins as well.
In the cabins of "Cama Preferente" (business class) you can also choose between a single and a double bed, their users also have washbasin, telephone to communicate with the crew on board and they can also enjoy the club room and the newspaper.
In the cabins of "Cama Turista" (economy class) there is a washbasin and you can travel in Tourist Lady or in Tourist Gentlemen, if you want to travel in group you must buy train tickets for all the beds of the cabin.
These trains make national and international departures.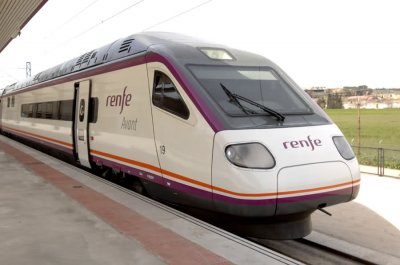 Avant trains are born after the AVE trains, for a brief period of time they were known as Iris, but soon they became Avant, they stopped having a cafeteria and all the seats were for a single class. With the lines of High Speed that were emerging, Avant trains became popular throughout Spain.
Renfe Media Distancia: These are regional trains converted into Media Distance trains.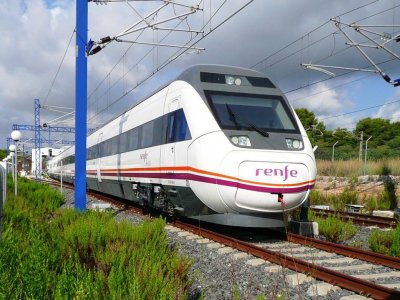 Renfe Altaria: Altaria trains are responsible for day and long-distance rail services, they do not reach the speeds reached by AVE trains but are also considered high-speed trains and can travel along the same routes as the AVE. Its predecessor is the Talgo 200.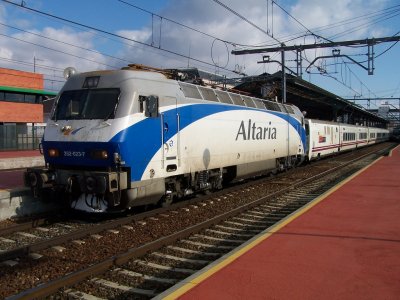 We have Altaria trains since the 10th of June, 2001. It has been an improvement over the Talgo trains. You can travel in Altaria trains in Economy and in Business class.
Renfe Operadora also has regional trains, regional Express, tourist trains, etc ...
Main Classes
The two main classes in which you can travel in most of the trains of Renfe Operadora are the Economy class and Business class.
The Economy class is usually more economical, although occasionally there are offers that lower the price of seats in Business class seats.
The advantages of travelling in Business Class instead of in the Economy class are that you have a greater space between the seats, they are in turn more ample, you have access to the club room in the station of origin, you have plugs in each seat and you get a newspaper and a food service in the seat, although these conditions may vary depending on the route, schedule or type of train in particular.
Main train stations
Whether for its size, the high number of passengers or for historical and artistic value, these are some of the main train stations in Spain, which also host High Speed ​​AVE trains:
Madrid Puerta de Atocha train station: It is the busiest train station in Spain, where more passengers take a train every day. It serves AVE, Long Distance (Alvia, Altaria and Intercity) and Medium Distance (Avant) trains. It was inaugurated in 1885 and it immediately began to receive a large number of travellers. In 1892, the railway station expanded and became known as Estación de Mediodía. It was modernized in 1992 with the aim of making it bigger with the arrival of High Speed.
Madrid Chamartín train station: The second most important station of Madrid and it connects the capital with the north of Spain, it serves AVE trains, Long Distance trains (Altaria, Alvia, Estrella, Trenhotel, Talgo and Intercity) and Medium Distance trains (Avant and MD).
Barcelona Sants train station: It is the main train station of Barcelona, ​​inaugurated in 1979 and it is along with Puerta de Atocha one of the most important train stations, due to the high number of passengers and trains that make their departures and arrivals there. Along this station run AVE, TGV, Avant trains, Long Distance trains (Alvia, Alaris, Euromed, Talgo, Estrella and Trenhotel), Medium Distance trains (Intercity, Regional Express, Regional and MD) and trains of "Cercanías" (commuter trains).
Málaga María Zambrano train station: The main railway station in Málaga, named after the philosopher María Zambrano since 2007, was formerly called Málaga Término. It receives high-speed trains such as AVE and Avant, Long Distance trains (Alaris and star), Medium Distance trains and trains of "Cercanías" (commuter trains).
Sevilla Santa Justa train station: the main station in Seville and one of the busiest railway stations, along with Puerta de Atocha in Madrid and Barcelona Sants. It was inaugurated in 1991. It serves AVE City, Avant, Long Distance trains (Alvia and Talgo) and Medium Distance trains (MD and Avant).
Zaragoza Delicias train station: This station is also one of the most frequented in our country. It was inaugurated in 2003 and it receives AVE, Alvia, Avant trains, Long Distance trains (Estrella and Trenhotel), Medium Distance trains (MD, TRD , Regional, Intercity, regional Express) and trains of "Cercanías" (commuter trains).
Useful information about the services of RENFE Operadora
Hand luggage
On trains you can carry up to 3 pieces of hand that do not occupy altogether more than 290 cm. and the largest of them can not exceed the following dimensions: 85 cm high x 55 cm wide x 35 cm deep, the sum of the weight can not exceed 25 kg.
Each passenger must take charge of their luggage, avoiding inconvenience and without generating danger or damage.
Commonly, as carry-on luggage, any item of clothing and personal items such as suitcases, backpacks, briefcases and the like is considered, but hand-carried chairs and folded baby carriers and musical instruments properly stored in their cases not exceeding following dimensions: 30 cm wide x 120 cm long x 38 cm deep. Finally, bicycles folded or disassembled inside their sheath are also considered hand luggage as long as their dimensions do not exceed three by more than 1802 cm, but in the trains of Conventional Average Distance, Metric Width and commuter rail it is not necessary that Folded bicycles go inside a holster.
Special luggage
It is the baggage of the passengers that by its dimensions or other issues is not considered hand baggage, as it is the case of golf bags and ski equipment, in any case, each passenger can only carry a special baggage like hand luggage and must always be properly sheathed or bagged.
Traveling by train with Animals
You can travel with animals on trains, although the conditions vary according to the type of train.
In AVE trains, Long Distance trains, Medium Distance trains and Avant it is allowed to travel with small pets as long as the rest of passengers do not oppose, obviously the passenger must be responsible for their animal and the inconvenience or damage that could cause The animal must go with its corresponding documentation in good hygienic, sanitary and security conditions.
For small pets we refer in this case to dogs, cats, ferrets and birds that are not farmyard, whose weight does not exceed 10 kg.
A maximum pet allowed per passenger and must be in a cage or carrier or other similar items that have devices to contain and eliminate waste produced by the animal, whose measures do not exceed 60 cm wide x 35 cm long x 35 cm wide.
On Medium Distance trains, access to domestic animals can be limited in case of passenger saturation.
All guide dogs can travel on any type of train and always free of charge in accordance with current legislation.
In the Cercanías trains it is also allowed to transport small domestic animals if the other passengers do not oppose, however in this case it is not necessary to take the pet in a cage or carrier, but they must go at least on a leash and if they are dogs they must wear a muzzle. You can limit your transportation on some trains, schedules and stations.
On most trains, animals will need a special ticket for animals.