Sants Station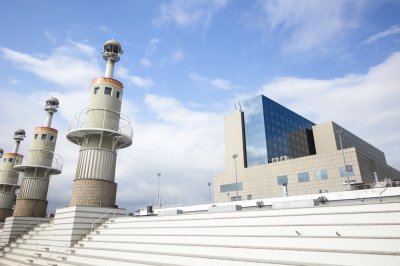 This station has been standing since 1854 although it has not stopped growing and transformed as the needs of the railway routes have done and it has services of High Speed since 2.003 when it connected Madrid with Saragossa and Lleida.
The largest influx of passengers in Barcelona Sants is currently for AVE trains between Madrid and Barcelona, this being the most demanded route of all existing, with about 7.5 million passengers per year.
Through it, AVE, TGV, Avant, Alvia, Euromed, Talgo, Intercity, Regional trains and Media Distance trains run daily, among others. All trains with origin or destination in Barcelona, pass through this station.
The Barcelona train station with the highest number of users is the Barcelona Sants station and is the second train station with the highest influx of passengers from all over Spain after the Atocha station in Madrid.
It is a station built mainly with concrete, steel and glass and has two floors, the ground floor which is where practically all of the services are located and the underground plant where the roads and platforms.
This important station is in the neighborhood of Sants - Monjuic, in & nbsp; The Plaza Dels Països Catalans and inside there are information points, lockers, customer service, advice, tips, cafes, restaurants, shops, car rentals, a hotel and a police station. If you are traveling in the Preferred class you can also access the Club VIP lounges where you can relax with drinks, Internet and newspapers.
It is adapted to receive passengers with reduced mobility.
In its surroundings there are areas to park the private vehicles, taxi and urban bus stop.
To get there we have lines 3 and 5 of metro and also buses. The station is also connected to the airport.