AVE Madrid Puerta de Atocha Station
The Madrid Puerta de Atocha railway station is located in the district of Atocha, in the district of Arganzuela, more specifically in the Glorieta of the Emperor Carlos V. This station forms part of the railway complex of the station of Atocha, and was constructed in order to be in charge of receiving the High Speed ??trains and the great majority of Long Distance trains of the city of Madrid.
The station was built between 1985 and 1992, and its inauguration coincided with the commissioning of the first AVE train service, which links the cities of Madrid and Seville. During the beginning of the 2000' it underwent several modifications, but all with the only objective of expanding its capacity, since the number of users did not stop increasing since its commissioning.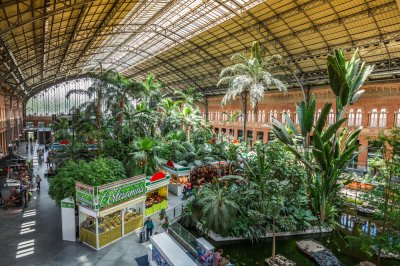 The Madrid Atocha train station has a large number of rail services, both large lines and high speed, many of these run through standard gauge tracks. In the station, we also find a lot of commercial establishments, bars and restaurants, as well as all the necessary services that travellers might need, such as the sale of train tickets and information points.
The location of the Madrid Puerta de Atocha train station is unbeatable, since it is located in the heart of Madrid. It is also very well connected with the rest of the city, so getting around the capital of Spain becomes a simple task if you start your visit from this station. Its connection with the airport of the city is very remarkable, that works the 24 hours of the day.
If you need to wait for your train or to wait for a person to arrive, the best way for it is spending some time in the tropical garden that you find directly when you enter the Atocha complex. It was inaugurated in 1992, and it consists of a glass space of about 4000 square meters. It was built in the place that used to occupy the platform of the old railway station.
Within this garden, a kind of microclimate has been created, in which we can enjoy a lot of species of tropical plants and palms. The pond with turtles is also a very emblematic and remarkable place. If we want, we can sit in the restaurant or on the terrace to enjoy this wonder with ease.
If you travel with children, the tropical garden of the Atocha railway station is obviously a must. In addition, there are various leisure areas, bars and restaurants near the tropical garden.