More about the AVE Sevilla Madrid
The AVE is a fast and efficient means of transport. With the line Sevilla Madrid we have managed to cover the distance of 390 km separating Seville from Madrid in approximately 2 hours and 45 minutes. Traveling by AVE to Madrid is going to make things very easy for you. You will not have to look for parking or walk long distances to get to the centre of the city or to your accommodation. The Atocha station is located in the centre of Madrid and it is also very well connected with the rest of the city via the metro.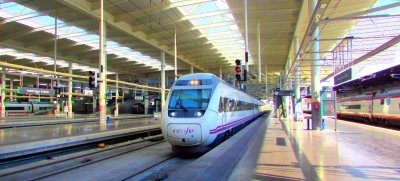 The arrival of the AVE in Madrid was in 1992 and the first line that was operated was that of Sevilla - Madrid. It was the year of the Expo'92 and the AVE could not be inaugurated in a better year. Over the years, the number of AVE lines have been growing and at the same time, the track width was being adapted. Now there are different routes, such as Madrid - Toledo, Madrid - Zaragoza, Madrid - Huesca, etc.
The Atocha train station is the largest station in Spain and it is divided into two stations. First, the Puerta de Atocha Madrid Station where the AVE passes and secondly, the Madrid Atocha Cercanías Station, as well as a Metro station in Madrid.
The history of this station is long, full of remodelling and other changes. Its construction began in the nineteenth century and it was inaugurated in 1851 under the name of Estación de Mediodía by the railway company MZA. The day of the inauguration was attended, among others, by Queen Isabel II and she was a passenger on a trip from Madrid to Aranjuez. Unfortunately, in 1864, because of a fire, the station was destroyed. It was not until 1888 that they began to build a new station, a long and tall surface. After 4 years of works the station was inaugurated again in 1892.