Madrid Puerta de Atocha Station
Located in the railway complex of Atocha station in Madrid, near the Emperador Carlos V site, you will find the Madrid – Puerta de Atocha railway station. This station is in charge of receiving High-Speed ??and Long Distance trains. Commter trains (Cercanías) stop at the Atocha - Cercanías train station.
This railway complex was built between 1985 and 1992, when the revolutionary line of the High Speed ??train that joined the cities of Madrid and Seville arrived. Before its construction, there was only one station, the Estación de Mediodía, but this one was replaced by two stations, the exisiting Atocha Cercanías and Puerta de Atocha.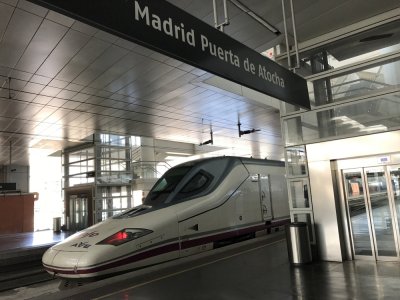 Around the year 2000, the railway complex underwent some renovation works, all with the aim of increasing its capacity, since the number of users, mainly High-Speed train users, did not stop growing.
During the first years, the station shared routes of the conventional network and of standard gauge, but over the time the Iberian and conventional routes have been replaced by standard gauge tracks routes, those used in the network for high-speed. The same happened with the electrification, which was gradually adapted to the High Speed ??lines.
The Madrid Puerta de Atocha railway station, besides being the most important of the city of Madrid in terms of rail traffic, has some great attractions, which will make our trip wonderful since the very beginning.
In addition to the good services, it has an impressive Tropical Garden, with more than 500 species of flora and fauna. In other words, we have got a little ecosystem inside the station of Atocha. In addition to that, thanks to its wonderful connections of metro or bus, we can move to any point of the city in the simplest way. The Madrid Puerta de Atocha railway station is the ideal place to start or end your trips.