More about the AVE Málaga Barcelona
The train station par excellence in Barcelona is Sants. During the seventies, the new station was launched, which had been reformed and extended by stretches throughout the seventies and it took away the importance of Estació de França as a main station in the city of Barcelona. Between 2005 and 2007, it was necessary to restructure and to reform the tracks in Sants, as great changes were coming. All the Iberian gauge tracks were left next to the sea and the first 6 tracks were left free for international gauge for the trains of high speed. The platforms and the lobby of the station were also renovated. The part of the station where there are the tracks and platforms is on the basement and at street level, there are the entrances to the station. In it there are all kinds of services. There are points of sale and change of tickets, information to the customer, lockers, bars, restaurants, services, shops, waiting areas, etc.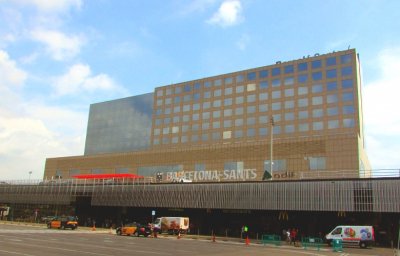 In 1929, the year of the International Exhibition in Barcelona, a new station was inaugurated in Barcelona by Alfonso XIII. The architect was Pedro Muguruza. This station was commissioned by the Railway Company of Madrid to Zaragoza and Alicante (MZA). In the sixties, RENFE wanted to make some changes and was no longer interested in a terminal station with limits, they preferred an interconnected station and this is why they began to fix a more central station: Estació de Sants.
They also wanted to close the Estació de França and Nord, but the Estació de França was saved from the closure, but it obviously took a second position. In 1992 the Estació de França was closed to be able to reform it completely. As soon as it reopened, it didn't offer any longer suburban services as previously but Long Distance and regional. At the beginning, all trains of Long Distance to France left from there but with the years, some have passed to Sants. In 2005, in Sants works began and some high speed trains were diverted to the Estació de França.