AVE Madrid Puerta de Atocha Station
The Madrid Puerta de Atocha railway station is located within the railway complex of Atocha Madrid, located near the Plaza del Emperor Carlos V, a very central area of ??the Spanish capital. The station was built between 1985 and 1992, just behind the Atocha station.

The setting up of the Madrid Atocha railway station coincided with the setting up of the first AVE, the High Speed ??line linking the cities of Madrid and Seville inaugurated in 1992.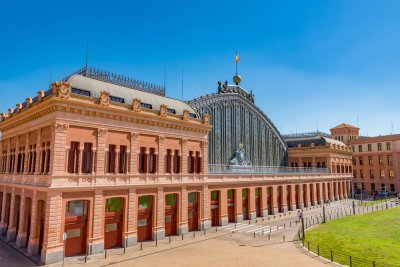 At the end of the years 2000 a series of renovations were realized in the railway station of Madrid Atocha with the aim of increasing its capacity because over the years the number of travelers who used it, mainly users of the high speed lines, did not stop increasing.

The railway station has all kinds of services that travelers may need, such as toilets, cafeterias and restaurants, ATMs, parking, National Police station, lockers, shops, tourist information, bookstore or pick up service of online tickets. It also has services adapted for people with disabilities, as well as the Dialoga service, for deaf or hearing impaired people.

The location of the Madrid Atocha railway station is magnificent. It is very close to some of the major attractions of the city of Madrid, so if you have time, you can take advantage to know something more about the capital of Spain.

Parque del Retiro, for example, is very close to the train station. This historic garden and keeps a rich heritage, especially the Monument to Alfonso XII, the Crystal Palace, the Great Pond, the Parterre, the Gate of Felipe IV and the Royal Astronomical Observatory.

Very close to the Retiro Park, specifically on the Paseo del Prado, there is the Botanical Garden, the Thyssen Museum and the Prado Museum, we highly recommended to visit them. The Reina Sofía Museum is also nearby, with its permanent exhibition and many other temporary exhibitions that are changing throughout the year.