AVE Valencia Joaquín Sorolla station
The AVE station in Valencia Joaquín Sorolla is located in the heart of the city of Valencia, it was built between 2008 and 2010, just a few meters from the Estación del Norte, which can be reached in just 10 minutes on foot. Its inauguration took place on October 13, 2010.
The building of the station of Valencia Joaquín Sorolla has a rectangular floor, in which two areas, the hangar and the travelers' building, clearly differ. The hangar follows the rectangular structure of the plant, but the passenger area is U-shaped and has pillars that differentiate it at first sight.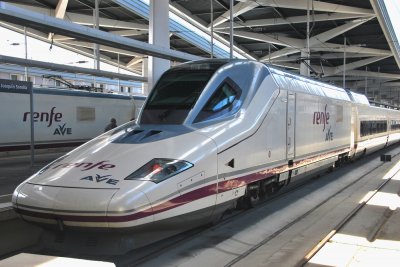 Being a provisional station, its facade is constructed with modules of glazed polycarbonate. The main entrance to the Joaquín Sorolla Valencia Station is located on Calle San Vicente Mártir, but it has another access on the corner between Maestro Sosa and Filipinas.

It has the services of any railway station, such as toilets, cafeteria and restaurant, luggage trolleys, banking services, lockers or tourist information. In addition it also has services adapted to people with disabilities, such as attention to travelers, parking, wheelchairs, elevators or adapted platforms. Furthermore, the station has the service Dialoga, intended for deaf and hearing impaired people.

In this Valencian train station we can also rent a vehicle to move around Valencia and it has a parking for private cars with 650 seats, accessed both by the street of San Vicente Mártir and Giorgeta Avenue.

Having such a privileged location, it has a magnificent network of communications with the metro and tram network of the city of Valencia, buses of the city of Valencia (EMT Buses) and metropolitan buses of Valencia.

The Valencia Station Joaquín Sorolla has a total of 9 routes, six of them are international width tracks, and the remaining three are of Iberian width. All of them are destined to the train station with service for travelers. It also has three platforms of about 10 meters wide.