More about the AVE Madrid Sevilla
The largest AVE train station in Seville is called Estación de Sevilla - Santa Justa. With the Expo'92, the imminent need arose to expand the station in order to facilitate access to the number of people who would come to Seville. After few years of work this station was opened to the traveller on May 2, 1991. As a result, two stations had to close, the Plaza de Armas and the one of San Bernardo. Both were replaced by Santa Justa.
The station of Santa Justa is large and it occupies a total area of ??80 000 square meters. It has six international gauge tracks reserved for the circulation of the AVE. The materials that dominate the construction of this railway installation are brick, steel and glass. The access is through the ground floor through an elliptical cover and then we find a spacious lobby. In this lobby we find all kinds of services: cafeteria, currency exchange, gift shops, etc. In the outside we will find other services such as parking, car rental, taxi services, etc.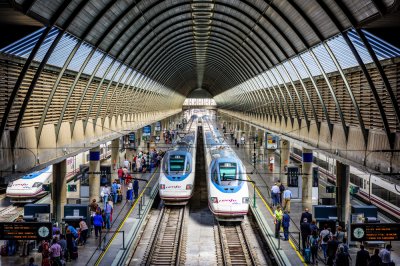 Santa Justa is not far from the historical centre of Seville and it offers good road communication. The journey in the AVE from Madrid to Seville lasts approximately 2 hours and 56 minutes. The kilometres that separate Madrid from Seville are 390.
Traveling in AVE means traveling with endless advantages. In addition, this means of transport is much less polluting than other means such as the airplane and private car, CO2 emissions are very low and the railway service will continue to be managed in such a way that the AVE and trains continue to be a means of transport which are very sustainable.