AVE Málaga María Zambrano station
The AVE Málaga María Zambrano station, which has been changing its official name over the years, has been named since 2007 María Zambrano, a Málaga-born philosophe. The station was formerly called Málaga Termo. It was inaugurated in 1862.
The AVE Málaga María Zambrano station is located in the Explanada de la Estación and the opening hours of the station in Málaga are between 05:00 am and 00:45 am.
The AVE Málaga María Zambrano train station is one of the most complete in Spain, its shopping center gives you even the opportunity to go bowling and to go to the cinema, as well as shopping, go to restaurants or bars, etc ... And of course, it is adapted for people with limited mobility or hearing impaired.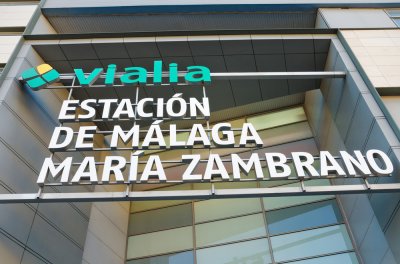 In addition to being a very complete AVE station, it is perfectly communicated by means of public transport, such as taxis, buses and metro lines, but you can also reach it by walking as it is 10 minutes from the city center. This AVE station is a point of reference both for travel and for leisure in the capital of the Costa del Sol. It hasn't only has a huge shopping center inside, but you can find in its vicinity the Harbor of Malaga, the beach Huelin, the Museum of Málaga, the Center for Contemporary Art, the Museum and House Museum of Picasso, the Roman Theater or the Alcazaba.

In this station in Málaga do not only depart and arrive AVE trains, but also AV City, Avant and Middle Distance trains. The biggest influx of rail traffic in the station of Málaga corresponds to the AVE trains to or from Madrid Puerta de Atocha, the connection in High Speed ??between Málaga and Madrid exists since 2007 and since 2008 it is connected with Barcelona as well, ??another important railway connection.

It is equipped to receive 24,000,000 passengers per year and it is 51,400 square meters.