More about the AVE Madrid Córdoba
The route between Madrid and Córdoba means spending only about 1 hour and 44 minutes in one of the comfortable seats of the AVE that has been assigned to you. Whether you travel alone or accompanied, for leisure or for professional reasons, in the AVE you can rest and do what you like. You can listen to music, read a book or the newspaper or even have a coffee or refreshment in the cafeteria inside the AVE.
After traveling the 296 km that separate the capital of Spain from Córdoba, you will arrive at the railway station of Córdoba, formerly called Córdoba Central. This one existed from 1859 and its first train was one coming from Sevilla. Thanks to the arrival of the railroad to the city, the growth of the city was boosted.
In 1989 it was decided to build a new railway station to adapt to the needs of high speed. The old station stopped being used. As the previous station divided the city in two, with the remodelling, they decided to bury the roads. The land, in the centre of the city, was thus free and offices and flats were installed, among others. There are four tracks with international width for high-speed trains and four others with Iberian width for Media Distancia services. The main Long Distance lines are those that go from Madrid to Córdoba and from Barcelona to Córdoba. The main routes of Media Distancia are those that unite with other Andalusian cities like Sevilla, Jaén, Cádiz and Málaga.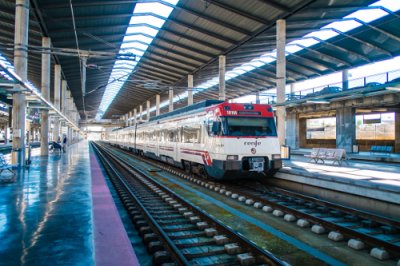 The Córdoba station is open daily from 06:00 to 24:00 and it is located at the Glorieta de las Tres Culturas, S / N. This facility has Dialoga service, a service for the deaf and hearing impaired, to facilitate the use of the services at the stations and the statopn is also suitable for people with reduced mobility. In addition, the station is very well connected with the rest of the city and with nearby interurban towns. There is a taxi rank, city buses and an intercity bus station near the railway station that will facilitate the mobility of the passenger. EL HIGUERÓN Airport is only 6 km from the train station.