More details about AVE Madrid Barcelona
Barcelona Sants hosts several AVE trains during the day. From Barcelona you can travel to different locations in Spain and also outside of Spain: to France.
The connection that is used most frequently is the one which travels between Barcelona - Madrid. The journey from one city to another is so fast, that there is no transportation that will make the AVE fade.
Estació de Sants has two floors. The ground floor contains access to the tracks, ticket sales, customer service, cafeterias, restaurants, shops and car rental, etc. On the other hand, in the underground are the tracks and the platforms. There are 14 tracks. There are lifts and escalators to access the tracks. The railway services that it receives are several. Until the works of the Barcelona-La Sagrera station finish, Barcelona Sants will be the stopping point for most high-speed trains.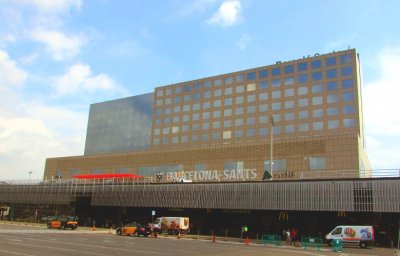 The station is located in Plaça dels Països Catalans in the district of Sants-Montjuïc and it is very well connected by metro and urban buses with the rest of districts of the city. The station provides services of Medium and Long Distance, High Speed ??and Rodalies de Catalunya. On the station there is a hotel of the Barceló chain.
The opening hours are from 04:30 to 00:30 h. The services available to the passenger are various: lockers, ATMs, parking, toilets, cafeteria and restaurant, Club Room, Wifi, etc.
Madrid is not the only destination from Sants. There are many other routes by AVE. Barcelona - Sevilla, Barcelona - Valencia, Barcelona - Zaragoza, Barcelona - Paris, Barcelona - Ciudad Real, etc. Sants sees all kinds of trains. In addition, there is also urban bus service and taxis at one of the exits of the station. The bus stop is also next door.
The route Madrid Barcelona is a success and it is the most requested route. Apart from the speed of arrival from the station of origin to the destination station, it offers many more advantages. For example, you have the suitcases included. Depending on the rate, you can change your tickets for free and children under 4 travel for free. These are some of the advantages with which we can compare the use of the AVE with the airplane and see what suits us more.