AVE train station in Alicante
The Estación Alicante Terminal is the main railway station in the city Alicante. This station was built in 1858, but it has undergone a lot of renovations over the years. Therefore, its appearance today differs from the one it had in its origins.
When its construction was completed, it was one of the largest stations in Spain at that time, formed by sections parallel to the tracks, including the main access to the station, with a staircase, Doric columns and a facade.
At the end of the 60's the main facade was renovated and the Doric columns were elliminated. This is why it lost much of its neoclassical style.
In Valencian this train station is known as Alacant-Terminal.
The Alicante Terminal station is located on the Iberian track width railway line La Encina - Alicante, it has got 6 tracks and it is located on Calle Salamanca.
It has magnificent services, both Long Distance and Medium Distance. The service of High Speed ??was inaugurated the 18 of June of 2013 and the main route was the one by AVE from Alicante to Madrid.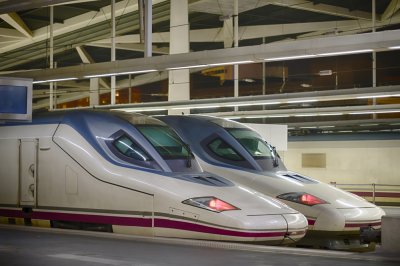 Currently, the railway station of Alicante - Terminal entails two stations, one next to the other. The services by conventional track in Iberian width take place in the origin station, while the other station receives the services of High Speed AVE that receive the trains AVE Madrid Alicante and Euromed.
This railway station is located near the city centre of Alicante, so it has a very good location for travellers, as soon as they get off the train, they are in the centre of their destination. The station has all sorts of services, such as information points, ticket sales, shops, cafes, banking services, car rental ... There are also nearby buses and taxis to facilitate travel.
It also has all kinds of services adapted to people with disabilities such as traveller's service, toilets, parking, accessible shopping area, wheelchairs and adapted platforms.