More about the AVE Córdoba
The AVE will transport you from different parts of Spain to one of the most beautiful cities in the country. In it, Jews, Muslims and Christians lived in harmony and it was already in the XIth century a very cultural and high-educated city. Strolling through its narrow streets and visiting the Mosque of Córdoba are two of the things that make worth traveling to Córdoba.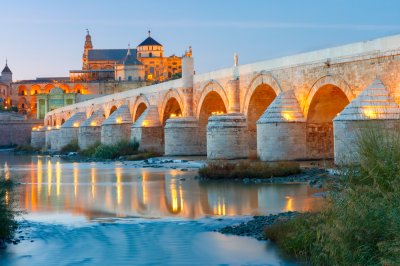 Spain has such an extensive network of high-speed trains! Some of the lines that stop in Córdoba are the following: The line Madrid - Sevilla stops in Ciudad Real, Puertollano and Córdoba, until arriving at Sevilla. Another popular line is that of Barcelona - Sevilla, which stops in Camp de Tarragona, Lleida, Zaragoza, Ciudad Real, Puertollano, Córdoba and finally Sevilla. Others are Valencia - Sevilla, Madrid - Málaga and Barcelona - Málaga.
The AVE station of Córdoba is the main station of this city and it is only 2 kilometres from the city, next to the intercity bus station. During its construction some archaeological remains were found but unfortunately, they were partly destroyed because of the works and the old station of Córdoba stopped being used as a railway station.
The current station is modern and has all kinds of services. In addition, it is very well connected with the rest of the city. It is located in the Plaza de las Tres Culturas. The new station began to be projected in 1986 when it was wanted to build the New Rail Access to Andalusia (NAFA) in international gauge to make the circulation of the trains of the future possible, the high speed trains. It contains routes of international gauge and also of Iberian gauge, for the services of Media Distancia and Larga Distancia. In Córdoba you will be able to enjoy some lovely days. This city offers a lot of cultural visits.