More about the AVE Córdoba Barcelona
Córdoba and Barcelona, ??two beautiful and unique cities that are separated by 712 km. This distance would not seem as short if we wouldn't have the AVE linking both locations in just 4 hours and 40 minutes. You can get from the Mosque of Córdoba to the Sagrada Familia in a heartbeat!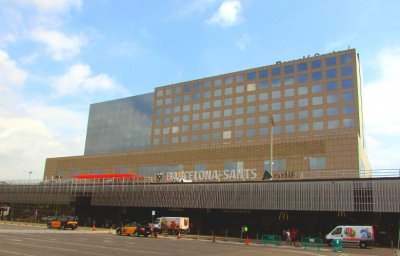 There are many possibilities that can turn your ticket cheaper, depending on the class, schedule and type of train you choose for your trip. All the possibilities have something in common: the trip by AVE is punctual and very comfortable. You just need to show up at the station of Córdoba about 15 minutes before the AVE leaves. That will be enough and then you will be able to sit and to enjoy the trip.
The AVE will leave you at the station called Sants which is the main station in Barcelona. It is very well connected with the rest of the city and you will not have any problem to access any point of the city, whether with metro, suburban, bus or taxi, as a private or rental car, it will be a moment.
The Barcelona Sants station is quite modern and its architecture is simple and functional. It consists in two floors, a ground floor and an underground. It will be in the underground where you will get the train. There are 14 tracks and on the ground floor, you have the lobby and the access, you will see where you have to go and by what route, everything is very well indicated with signs and in case of doubt, there is always staff within reach who you can ask.
The first tracks, from 1 to 6, are for high speed. Before taking the AVE or when arriving, it is good to know that on the ground floor (superior to the tracks and platforms) you have restaurants and cafes, clothes and magazine shops, ATM and customer service, among other services.