More about the AVE Barcelona Sevilla
Joining Barcelona and Sevilla by AVE has been a wise decision, linking two fantastic cities in about 5 hours and 35 minutes. Do not forget that between Barcelona and Seville there is a distance of 829 km. Before 2009, it was possible to travel to Andalusia with the AVE but it was necessary to pass through the capital of Spain, Madrid. With this trajectory, the journey lasted approximately six hours and thirty minutes. Since 2009, a direct line was created that would connect Barcelona with Seville. A diversion in Madrid was created that would allow to avoid the station of Atocha and would save 50 minutes of travel. The construction that allows this deviation has been called "by-pass". If we continue with the comparisons, before the AVE, it took eight hours and twenty minutes to travel to Seville from Barcelona by train. Railway progress is totally visible!
The station of Sevilla - Santa Justa is the third station with more inflow of passengers in Spain. The station has 13 routes and 6 of them with international width, especially for the AVE and Alvia. The remaining tracks are of Iberian width to allow the circulation of trains of Long Distance, Medium Distance and Cercanías.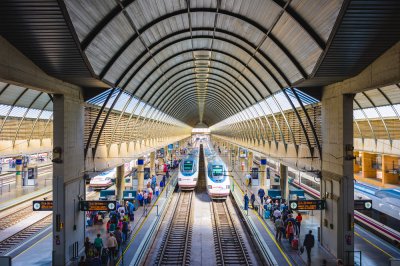 The inauguration of the station was on the second of May of 1991 at the same time that replaced two old stations, the one of Seville Plaza de Armas and the one of Seville San Bernardo. The first journey of the AVE was this between Santa Justa and Madrid Atocha.
The main reason for opening the AVE lines imminently was the Seville Universal Exhibition in 1992, popularly known as "Expo'92". This exhibition lasted 6 months and celebrated the 500 years since the discovery of America. This exhibition was really important to the city and thanks to the AVE, it still got more visits. The mascot of this event was Curro.