AVE Madrid Puerta de Atocha Station
The main train station in Madrid is Puerta de Atocha, one of the busiest train stations in Spain. It is located in the district of Arganzuela, in Glorieta Carlos V s/n, it has got 8 platforms and 15 tracks and it is owned by Adif.
This important railway station takes its name from the old Gate Atocha of the walls of Philip IV, a gate/monument that gave access to the suburb of Santa Cruz, an already extinct urban nucleus in Madrid, near the Parish of Santa Cruz and The Plaza de Santa Cruz. The aim of the train station was, as it happened, to receive the first High Speed line, which joins Madrid and Seville, which started on April 14, 1992, the year of the Expo 92 that took place in Seville. This is why it was so necessary to launch the High Speed line: to facilitate the arrival of tourists to the Expo 92. It was in 1992 when the old station stopped receiving trains.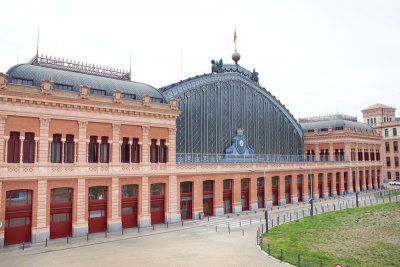 The construction of the Puerta de Atocha station was carried out by the architect Rafael Moneo, who managed the replacement of the old Atocha station by two stations, Puerta de Atocha and Atocha Cercanías, leaving the original station as a lobby to access to the new two stations.
The Puerta de Atocha station was remodelled at the end of the year 2000 to increase its capacity. At the beginning, all the departures and the arrivals of trains were taking place at the lower level of the station but when the number of users grew because of the arrival of the High Speed trains, it was remodelled. Then, the trains that arrived to Madrid did in the lower level, and the departure of trains, the waiting rooms and the control of passengers were placed in a higher level. This arrangement changed again in 2010 and trains arriving in Madrid are now received in a new terminal and the departures are made in the lower and upper levels that are closer to the old shelter.
The type of tracks have also been changing, in its beginnings the station had conventional tracks and international width tracks, that are those that the High Speed ??train uses. Little by little, tracks have been progressively transformed so that all of them are of international width.
The electrification of the tracks has also been changing so that all high-speed trains can circulate through them.